Tires & Wheels Services in Fredericksburg, VA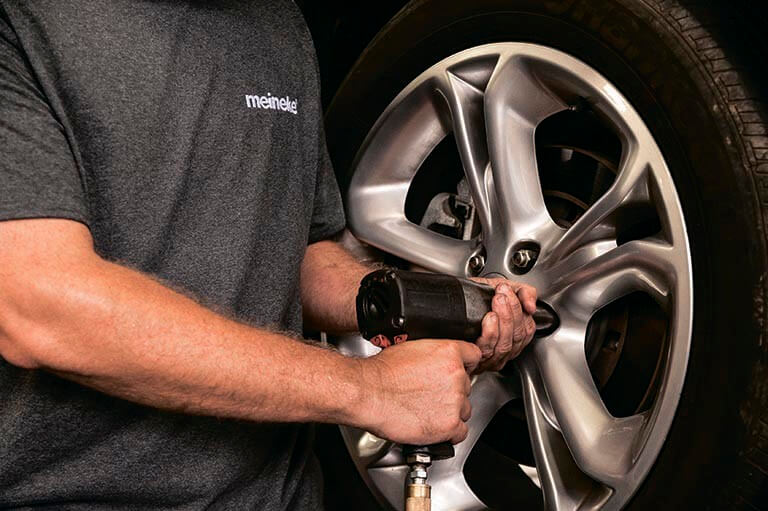 Is it Time to Repair or Replace Your Tires?
You may be asking yourself, 'Why do I need to have my tires serviced?' At Meineke, we have a simple answer to this question - because your tires are some of the most important parts of your vehicle. When you service and maintain your tires regularly, you will get the most out of your vehicle's suspension system, handling, and overall performance. If you can't remember the last time you had your tires replaced or inspected, visit your local store today in Fredericksburg VA Meineke #766 for a full tire-fledged tire inspection.
Why Is Maintaining Your Tires Important?
You know that you need your tires in good working order to drive your vehicle. So, perhaps a better question than why your tires are important is why you should maintain them before you're forced into frantically searching for "flat tire repair near me." The average car weighs over 4,000 pounds, which is a lot of weight sitting on your tires. Differences in inflation between tires causes your vehicle's weight to be distributed unevenly. Over time, that uneven weight distribution can lead to issues with your vehicle's balance, which then affects its safety and performance. Thus, following a routine rotation service is vital. You'll find such a service here at Meineke #766 in Fredericksburg, VA.
How Can You Tell When Your Tires Need to Be Serviced?
What are some signs that you need your tires or wheels repaired? Some may seem fairly obvious. A puncture or blowout will typically have you on the computer or phone researching all of your "flat tire repair near me" options. However, there are other, less subtle signs that your wheels or tires are in need of service. One may be if you experience issues with your vehicle's performance, such as a noticeable shaking in the steering wheel or the entire vehicle whenever you go above 40 mph. Another may be uneven wear across the tread of each of your vehicle's tires. A quick balance or tire rotation service done at Meineke #766 in Fredericksburg, VA can help you avoid ending up getting stranded on the side of the road.
Dangers of Driving With Worn-Down Tires
Driving with worn-down or damaged tires can be hazardous to you and your passengers. When tires lose a significant amount of tread, they do not handle as well during certain weather conditions. Rain, sleet, and snow can easily pose a threat to drivers with poorly maintained tires. These drivers may experience longer stopping distances and times, and they will be at a higher risk of hydroplaning during rainstorms. Even minor "slicks" can be risky if they occur during heavy traffic. To get the best tire repair service, take your car to a Fredericksburg VA Meineke #766 professional for an inspection.
Is it Time for New Tires?
Many of our customers ask themselves, "When should I visit a tire repair shop near me?" The answer depends on the age and current condition of your tires, your personal driving habits, and the condition of your local roadways. Individuals who drive on poorly paved and broken roadways will have to replace their tires earlier than most drivers. If you drive long distances at relatively high speeds, you may need to have your tires inspected once or twice yearly. If your tires are over ten-years-old, it is definitely time to consider a replacement. Get in touch with our Fredericksburg, VA, Meineke #766 store if you have specific questions.
Unrivaled Prices and Service
Drivers can expect high-quality service from us, but we also understand that tire repair cost and tire replacement cost are important to consider as well. If you are experiencing issues with your steering and suspension, you may also be curious about our tire rotation cost. We realize that vehicle maintenance and repair can be expensive, which is why we strive to offer some of the most affordable prices in the industry to our customers. Your local store may also offer various coupons and discounts. Call our Fredericksburg, VA, Meineke #766 store for additional information about our services.
Schedule Tires & Wheels service today