Tires & Wheels Services in Pleasant Hills, PA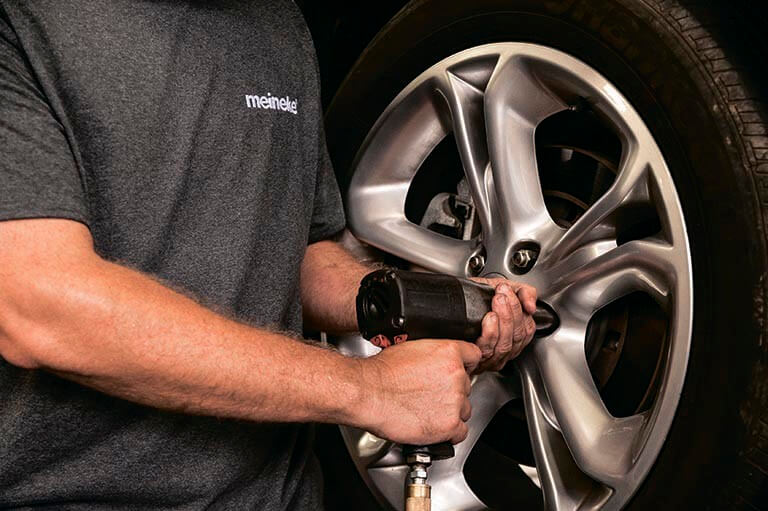 Keeping Your Tires in Optimal Condition
Have you been searching for a "flat tire repair near me"? If the answer is yes, you should consider contacting us for tire repair service and tire rotation service. Our certified technicians can inspect your car's tires thoroughly and quickly while helping you decide if you need any repairs or replacements. We understand that tire repair cost is always a factor to consider, which is why we strive to offer you a variety of discounts and tire rotation coupons. Speak to one of our professionals at our Pleasant Hills, PA, and Meineke #2517 to learn more about our tire repair services.
Know the Importance of Your Tires
Tires are arguably one of the most important parts of any vehicle. This is because they are what helps your car or truck cling to the road and have enough traction to safely operate. Your car only accelerates, turns and stops because your tires allow it to. Tires also play an important role in gas mileage. When they are improperly inflated they lose fuel efficiency and you end up paying more at the pump. At Meineke #2517 in Pleasant Hills, PA, we service cars while and act as a tire repair shop. Contact us for tire change service for all your vehicles.
What Are The Signs Telling You Tire Repair Is Needed?
Uneven tread heights and issues with vehicle stability at high speeds could each be a sign that you're in need of a tire repair or tire change service. However, these signs are often easy to miss. Fortunately, you vehicle will often tell you when its tires need some TLC through your in-dash tire pressure light. If and when it turns on, you should immediately stop and see which of your tires is over or underinflated. If the sensor continues to illuminate even after adding air to the tire, taking it into Meineke #2517 in Pleasant Hills, PA may help you avoid a high tire replacement cost. Be sure to check and see if you also need a tire pressure sensor replacement while you're there.
What Happens if You Avoid Rotating Your Tires?
A flat tire leaves you stranded, pure and simple. Yet there are other reasons why you should ask yourself "Is there a good option for tire repair near me?" long before you ever get a flat. Avoiding routine tire rotations won't necessarily keep your vehicle from driving (up until excessive wear causes a flat, that is), yet it does limit their performance lifetime. Given the significant financial investment your tires represent, wouldn't you want to get the most out of them? Contact us at Meineke #2517 in Pleasant Hills, PA to learn how a low tire rotation can save you hundreds of dollars in the long run.
Signs Your Tires Need To Be Replaced
The great thing about tires is that they usually show clear signs when they need to be replaced or serviced. Damaged side walls may be cracked and broken if the tire is old or failing. Tread on the tire may also seem noticeably low, further indicating the need for a tire repair service. In severe cases, your tires may be so damaged, you can feel or see the belts, or insides, of the tire. Wear on one side, or not enough wear along both sides of your tire also indicates a problem. If any of these happen to your vehicle, immediately contact Meineke #2517 in Pleasant Hills, PA to help you safely get back on the road.
Exceptional Service at Affordable Prices
At Meineke, we understand that you may be concerned about tire rotation or tire repair cost. If you are, we offer a variety of tire rotation coupons that can help you save on these services. Our professionals always provide quality service. If you believe that your tires are old or damaged, don't hesitate to contact one of our professionals at the Pleasant Hills PA Meineke #2517 today.
Schedule Tires & Wheels service today