Tires & Wheels Services in Catonsville, MD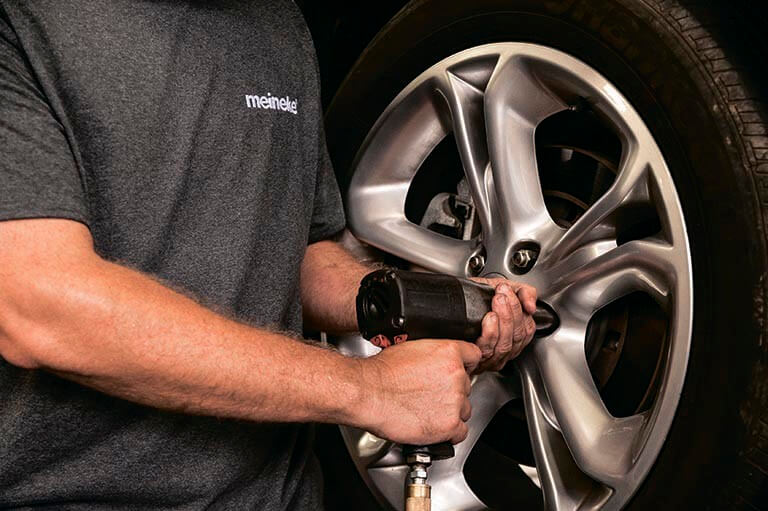 How Are Your Tires Made?
Have you ever taken a moment to think about how your vehicle's tires are made? Probably not, yet doing so may help you better understand what goes into our tire repair service. More than just a few inches of thick rubber, your tires are actually made from layer after layer of fabric cords called plies. These plies sit atop steel belts that help to reinforce both the sidewall and the treads, which is formed from several layers of synthetic rubber. Steel cable loops called beads give the tire the strength needed to stay seated on the rim. Once those components are placed together, they are run through a curing machine which cuts the tread pattern and bonds all the components together. To learn more about tires, including tire repair cost, visit Meineke #251 in Catonsville, MD today.
Know the Importance of Your Tires
Tires are arguably one of the most important parts of any vehicle. This is because they are what helps your car or truck cling to the road and have enough traction to safely operate. Your car only accelerates, turns and stops because your tires allow it to. Tires also play an important role in gas mileage. When they are improperly inflated they lose fuel efficiency and you end up paying more at the pump. At Meineke #251 in Catonsville, MD, we service cars while and act as a tire repair shop. Contact us for tire change service for all your vehicles.
How Often Should You Inspect Your Tires and Wheels?
Proper inspections of your tires should happen at least once a month. If you often drive in rough terrain or other dangerous conditions, you should inspect your tires and wheels twice a month or more. This is because tires can become worn down or damaged very easily in certain conditions. Sharp rocks or other debris can weaken tires and lead to premature blowouts and necessitate the need for a repair or replacement. Bring your vehicle to Meineke #251 in Catonsville, MD for an inspection and tire repair cost estimate. This will help you avoid having to search for "flat tire repair near me."
What Happens if You Avoid Rotating Your Tires?
A flat tire leaves you stranded, pure and simple. Yet there are other reasons why you should ask yourself "Is there a good option for tire repair near me?" long before you ever get a flat. Avoiding routine tire rotations won't necessarily keep your vehicle from driving (up until excessive wear causes a flat, that is), yet it does limit their performance lifetime. Given the significant financial investment your tires represent, wouldn't you want to get the most out of them? Contact us at Meineke #251 in Catonsville, MD to learn how a low tire rotation can save you hundreds of dollars in the long run.
When to Replace or Inspect
More than likely, if your tires have not been replaced in over ten years, they will need to be replaced. If you have had your current set of tires for more than five years, professionals recommend having them inspected at least once a year just to be on the safe side. In general, how often you need to replace or inspect your tires will depend on your mileage, driving habits and the road conditions your most frequently encounter. If you constantly drive long distances at high speeds, please remember to schedule an inspection at your local store in Catonsville MD Meineke #251.
How Can You Save On Tire Repair and Replacement Costs?
If you're in need of new tires, you probably have concerns about the actual cost of tire replacement. While worn tires increase your risk of performance and stability issues on the road, that doesn't make affording new tires any easier. Fortunately, we at Meineke in Catonsville, MD can. Once you have your new tires, be sure to make frequent visit to our Meineke #251 web page. We frequently post repair and tire rotation coupons there. This is our way of rewarding the trust you place in us.
Schedule Tires & Wheels service today