Tires & Wheels Services in New Haven, CT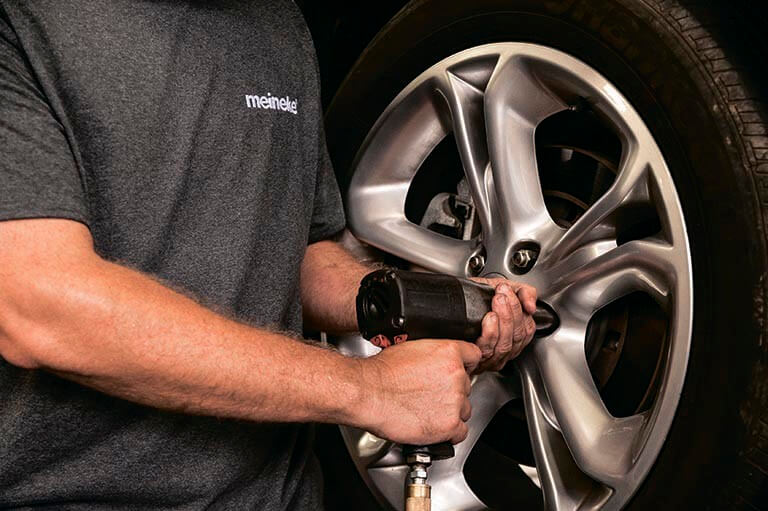 What Do Tires and Wheels Do?
A wheel is composed of three main parts: the spokes, the rim and the tire. The tire is the outermost surface of the wheel that comes into contact with the road. It connects to the rim of the tire, which is simply the outside edge of the wheel. A tire covers the rim of the wheel to both protect the rim and help your vehicle absorb shock and increase performance. Without all three parts, the safety and performance of your tires would be greatly reduced. To learn about tire repair service, contact Meineke #122 in New Haven, CT.
Why Your Tires Matter
Tires are one of the most essential parts of your vehicle. They act as the only point of contact between your vehicle and the roadway, so they are vital for proper safety. They can also significantly impact how well your vehicle performs. If you fail to take your vehicle in for a scheduled tire change service, you could be increasing the wear on your vehicle and lessening the lifetime of connected components. You may also be putting yourself, your vehicle's occupants and others on the roadway in danger. As tread wears down on a tire, it does not maintain as much traction, which could cause your car or truck to lose control on the road. Stop by Meineke #122 in New Haven, CT to learn about a tire rotation service to prolong the life of your tires.
How Can You Tell When Your Tires Need to Be Serviced?
What are some signs that you need your tires or wheels repaired? Some may seem fairly obvious. A puncture or blowout will typically have you on the computer or phone researching all of your "flat tire repair near me" options. However, there are other, less subtle signs that your wheels or tires are in need of service. One may be if you experience issues with your vehicle's performance, such as a noticeable shaking in the steering wheel or the entire vehicle whenever you go above 40 mph. Another may be uneven wear across the tread of each of your vehicle's tires. A quick balance or tire rotation service done at Meineke #122 in New Haven, CT can help you avoid ending up getting stranded on the side of the road.
What Happens if You Avoid Rotating Your Tires?
A flat tire leaves you stranded, pure and simple. Yet there are other reasons why you should ask yourself "Is there a good option for tire repair near me?" long before you ever get a flat. Avoiding routine tire rotations won't necessarily keep your vehicle from driving (up until excessive wear causes a flat, that is), yet it does limit their performance lifetime. Given the significant financial investment your tires represent, wouldn't you want to get the most out of them? Contact us at Meineke #122 in New Haven, CT to learn how a low tire rotation can save you hundreds of dollars in the long run.
When to Replace or Inspect
More than likely, if your tires have not been replaced in over ten years, they will need to be replaced. If you have had your current set of tires for more than five years, professionals recommend having them inspected at least once a year just to be on the safe side. In general, how often you need to replace or inspect your tires will depend on your mileage, driving habits and the road conditions your most frequently encounter. If you constantly drive long distances at high speeds, please remember to schedule an inspection at your local store in New Haven CT Meineke #122.
Where Can You Save on Your Tire Services?
No one enjoys having to pay for auto repairs, but it can be easier to handle if you have the right provider. When it comes to the care of your tires, we at Meineke offer regular coupons to help you save on things such as a tire rotation cost. Simply check the Meineke #122 web page frequently to looks for saving such as tire rotation coupons and other specials. No matter what tire service you may need in New Haven, CT, we can help you save on it.
Schedule Tires & Wheels service today