Tires & Wheels Services in Stafford, VA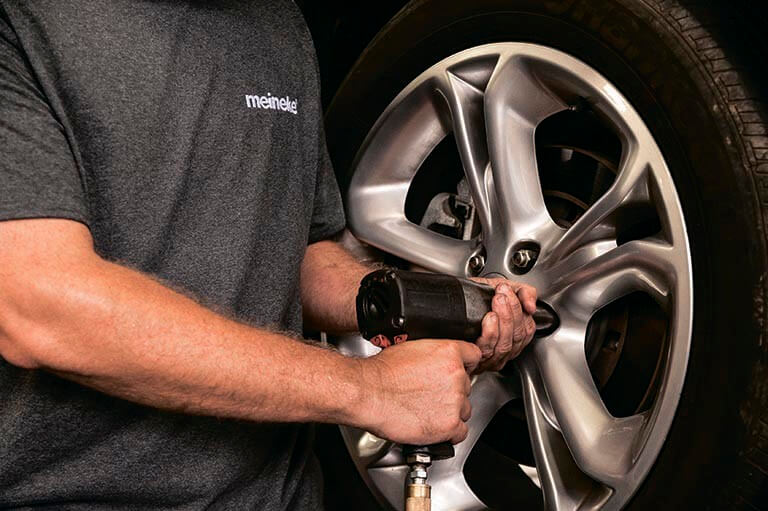 What Do Tires and Wheels Do?
A wheel is composed of three main parts: the spokes, the rim and the tire. The tire is the outermost surface of the wheel that comes into contact with the road. It connects to the rim of the tire, which is simply the outside edge of the wheel. A tire covers the rim of the wheel to both protect the rim and help your vehicle absorb shock and increase performance. Without all three parts, the safety and performance of your tires would be greatly reduced. To learn about tire repair service, contact Meineke #1288 in Stafford, VA.
Why Are Your Tires So Important?
The question of "why are tires so important?" typically comes up when the need for a tire repair shop arises. It is a question that deserves some thought. Nearly every aspect of your vehicle's performance, including braking, acceleration, steering, traction, and handling, are all largely dependent on tire performance. Issues with the tread, balance, or stability of your tires and wheels could affect your control of your vehicle in an emergency situation. Thus, if you suspect any problems, you should visit Meineke #1288 in Stafford, VA for repair or tire change service right away.
Signs of Potential Issues
If you have older or damaged tires, you may be wondering about potential warning signs. Fortunately for drivers, many of these signs are easily observable to the naked eye. If you notice that your tires are punctured or cracked, it may be time to consider taking your vehicle to a tire change service provider. If your pressure sensor constantly gives low readings, even after you fill your tires with air or change them, your car may need to undergo tire pressure sensor replacement. Many of these issues are signs of severe damage, so call our Stafford, VA, Meineke #1288 location if you notice any of them.
Dangers of Driving With Worn-Down Tires
Driving with worn-down or damaged tires can be hazardous to you and your passengers. When tires lose a significant amount of tread, they do not handle as well during certain weather conditions. Rain, sleet, and snow can easily pose a threat to drivers with poorly maintained tires. These drivers may experience longer stopping distances and times, and they will be at a higher risk of hydroplaning during rainstorms. Even minor "slicks" can be risky if they occur during heavy traffic. To get the best tire repair service, take your car to a Stafford VA Meineke #1288 professional for an inspection.
How Do You know When to Get New Tires?
Your tires will typically give you plenty of notice that you should look into tire replacement or repair. Low tire tread is a serious problem that can only be solved through replacing the affected tire and its twin. Cracking, noticeable wear on only one side of the tire and vibration coming through the steering wheel are all indicators that you should have your tires inspected by a professional. If you do not replace your tires promptly, they could pop while you are driving. Taking your car to Meineke #1288 in Stafford, VA for a full tire inspection and tire repair is the best option for safe driving.
Where Can You Save on Your Tire Services?
No one enjoys having to pay for auto repairs, but it can be easier to handle if you have the right provider. When it comes to the care of your tires, we at Meineke offer regular coupons to help you save on things such as a tire rotation cost. Simply check the Meineke #1288 web page frequently to looks for saving such as tire rotation coupons and other specials. No matter what tire service you may need in Stafford, VA, we can help you save on it.
Schedule Tires & Wheels service today