Tires & Wheels Services in Spartanburg, SC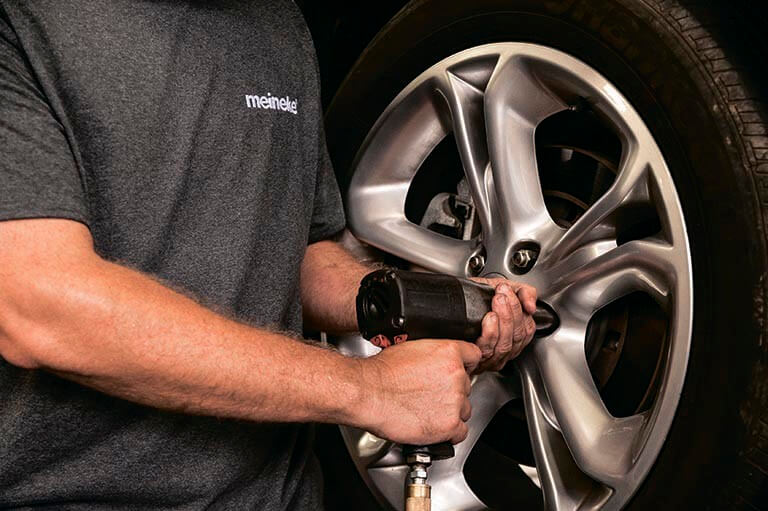 How Are Your Tires Made?
Have you ever taken a moment to think about how your vehicle's tires are made? Probably not, yet doing so may help you better understand what goes into our tire repair service. More than just a few inches of thick rubber, your tires are actually made from layer after layer of fabric cords called plies. These plies sit atop steel belts that help to reinforce both the sidewall and the treads, which is formed from several layers of synthetic rubber. Steel cable loops called beads give the tire the strength needed to stay seated on the rim. Once those components are placed together, they are run through a curing machine which cuts the tread pattern and bonds all the components together. To learn more about tires, including tire repair cost, visit Meineke #2102 in Spartanburg, SC today.
Why Is Maintaining Your Tires Important?
You know that you need your tires in good working order to drive your vehicle. So, perhaps a better question than why your tires are important is why you should maintain them before you're forced into frantically searching for "flat tire repair near me." The average car weighs over 4,000 pounds, which is a lot of weight sitting on your tires. Differences in inflation between tires causes your vehicle's weight to be distributed unevenly. Over time, that uneven weight distribution can lead to issues with your vehicle's balance, which then affects its safety and performance. Thus, following a routine rotation service is vital. You'll find such a service here at Meineke #2102 in Spartanburg, SC.
Signs of Potential Issues
If you have older or damaged tires, you may be wondering about potential warning signs. Fortunately for drivers, many of these signs are easily observable to the naked eye. If you notice that your tires are punctured or cracked, it may be time to consider taking your vehicle to a tire change service provider. If your pressure sensor constantly gives low readings, even after you fill your tires with air or change them, your car may need to undergo tire pressure sensor replacement. Many of these issues are signs of severe damage, so call our Spartanburg, SC, Meineke #2102 location if you notice any of them.
Consequences of Poor Maintenance
Neglecting to inspect or replace your tires can be dangerous in the long-run. If your tires are worn down, you may have difficulties handling your vehicle during adverse weather. Sleet, rain, and ice can easily send a vehicle with little tread spinning. During rainstorms, your vehicle will be more susceptible to hydroplaning, and you may experience longer stopping times and distances. Both of these issues have the potential to cause severe injury to drivers and passengers. Naturally, we want to help you avoid such situations. Contact our Spartanburg, SC, and Meineke #2102 to schedule a professional inspection of your tires.
How Do You know When to Get New Tires?
Your tires will typically give you plenty of notice that you should look into tire replacement or repair. Low tire tread is a serious problem that can only be solved through replacing the affected tire and its twin. Cracking, noticeable wear on only one side of the tire and vibration coming through the steering wheel are all indicators that you should have your tires inspected by a professional. If you do not replace your tires promptly, they could pop while you are driving. Taking your car to Meineke #2102 in Spartanburg, SC for a full tire inspection and tire repair is the best option for safe driving.
Where Can You Save on Your Tire Services?
No one enjoys having to pay for auto repairs, but it can be easier to handle if you have the right provider. When it comes to the care of your tires, we at Meineke offer regular coupons to help you save on things such as a tire rotation cost. Simply check the Meineke #2102 web page frequently to looks for saving such as tire rotation coupons and other specials. No matter what tire service you may need in Spartanburg, SC, we can help you save on it.
Schedule Tires & Wheels service today