Tires & Wheels Services in Darby, PA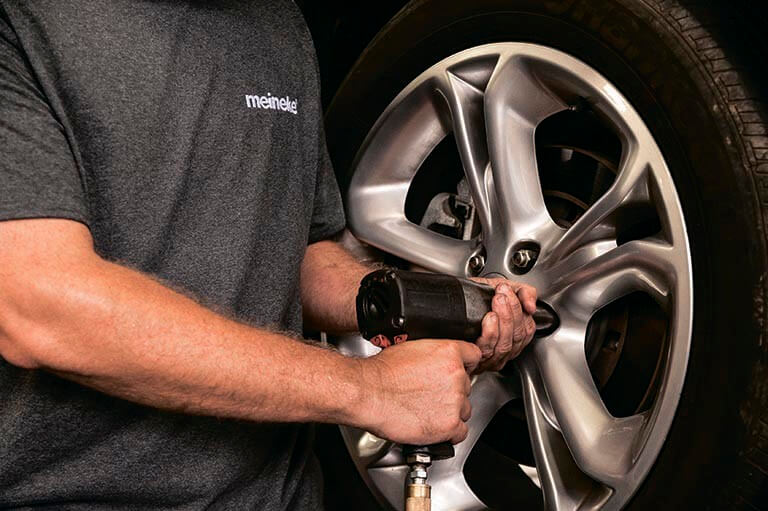 Is it Time to Repair or Replace Your Tires?
You may be asking yourself, 'Why do I need to have my tires serviced?' At Meineke, we have a simple answer to this question - because your tires are some of the most important parts of your vehicle. When you service and maintain your tires regularly, you will get the most out of your vehicle's suspension system, handling, and overall performance. If you can't remember the last time you had your tires replaced or inspected, visit your local store today in Darby PA Meineke #157 for a full tire-fledged tire inspection.
The Importance of Quality
The quality of your tires is extremely important, especially during adverse weather conditions and at high speeds. If you neglect to have your tires inspected regularly, you may be taking a risk. A car's handling largely depends on the quality of its tires, and if yours are deflated or damaged, you may notice that your car does not steer and respond as well as usual. At Meineke, we offer unsurpassed tire change service and tire rotation service to all drivers. Contact your nearest location in Darby PA Meineke #157 to learn more about keeping your tires functional.
What Are The Signs Telling You Tire Repair Is Needed?
Uneven tread heights and issues with vehicle stability at high speeds could each be a sign that you're in need of a tire repair or tire change service. However, these signs are often easy to miss. Fortunately, you vehicle will often tell you when its tires need some TLC through your in-dash tire pressure light. If and when it turns on, you should immediately stop and see which of your tires is over or underinflated. If the sensor continues to illuminate even after adding air to the tire, taking it into Meineke #157 in Darby, PA may help you avoid a high tire replacement cost. Be sure to check and see if you also need a tire pressure sensor replacement while you're there.
What Happens if You Avoid Rotating Your Tires?
A flat tire leaves you stranded, pure and simple. Yet there are other reasons why you should ask yourself "Is there a good option for tire repair near me?" long before you ever get a flat. Avoiding routine tire rotations won't necessarily keep your vehicle from driving (up until excessive wear causes a flat, that is), yet it does limit their performance lifetime. Given the significant financial investment your tires represent, wouldn't you want to get the most out of them? Contact us at Meineke #157 in Darby, PA to learn how a low tire rotation can save you hundreds of dollars in the long run.
When to Replace or Inspect
More than likely, if your tires have not been replaced in over ten years, they will need to be replaced. If you have had your current set of tires for more than five years, professionals recommend having them inspected at least once a year just to be on the safe side. In general, how often you need to replace or inspect your tires will depend on your mileage, driving habits and the road conditions your most frequently encounter. If you constantly drive long distances at high speeds, please remember to schedule an inspection at your local store in Darby PA Meineke #157.
Exceptional Service at Affordable Prices
At Meineke, we understand that you may be concerned about tire rotation or tire repair cost. If you are, we offer a variety of tire rotation coupons that can help you save on these services. Our professionals always provide quality service. If you believe that your tires are old or damaged, don't hesitate to contact one of our professionals at the Darby PA Meineke #157 today.
Schedule Tires & Wheels service today