Tires & Wheels Services in Cranberry Township, PA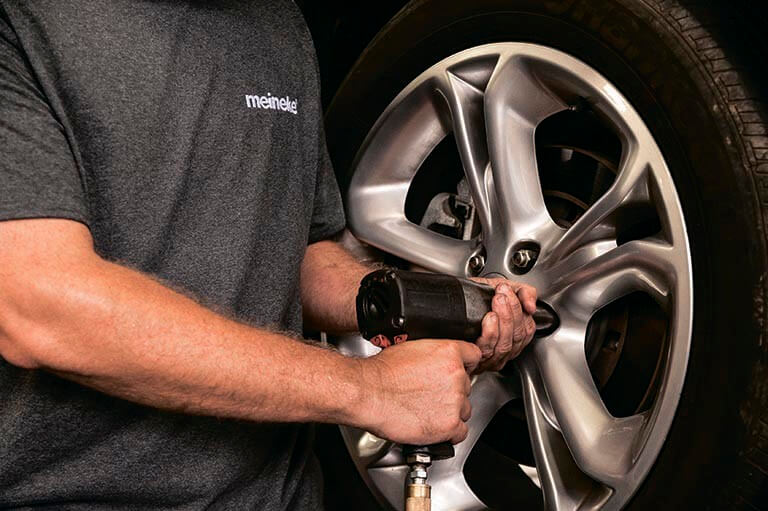 How Are Your Tires Made?
Have you ever taken a moment to think about how your vehicle's tires are made? Probably not, yet doing so may help you better understand what goes into our tire repair service. More than just a few inches of thick rubber, your tires are actually made from layer after layer of fabric cords called plies. These plies sit atop steel belts that help to reinforce both the sidewall and the treads, which is formed from several layers of synthetic rubber. Steel cable loops called beads give the tire the strength needed to stay seated on the rim. Once those components are placed together, they are run through a curing machine which cuts the tread pattern and bonds all the components together. To learn more about tires, including tire repair cost, visit Meineke #1800 in Cranberry Township, PA today.
Why Your Tires Matter
Tires are one of the most essential parts of your vehicle. They act as the only point of contact between your vehicle and the roadway, so they are vital for proper safety. They can also significantly impact how well your vehicle performs. If you fail to take your vehicle in for a scheduled tire change service, you could be increasing the wear on your vehicle and lessening the lifetime of connected components. You may also be putting yourself, your vehicle's occupants and others on the roadway in danger. As tread wears down on a tire, it does not maintain as much traction, which could cause your car or truck to lose control on the road. Stop by Meineke #1800 in Cranberry Township, PA to learn about a tire rotation service to prolong the life of your tires.
Signs Your Wheels Need Alignment
Wheels may need to be aligned after accidents or after too much wear and tear on a vehicle. Cars with tire alignment issues often show uneven tire wear. Drivers may also notice vibration through the steering wheel as wheels pull against one another instead of working in sync. If your car pulls to one side, it may indicate that your wheels need to be aligned. Bring your car or truck to Meineke #1800 in Cranberry Township, PA, and we will gladly perform an alignment and tire rotation at the same time. Contact us for more information regarding tire rotation.
Consequences of Poor Maintenance
Neglecting to inspect or replace your tires can be dangerous in the long-run. If your tires are worn down, you may have difficulties handling your vehicle during adverse weather. Sleet, rain, and ice can easily send a vehicle with little tread spinning. During rainstorms, your vehicle will be more susceptible to hydroplaning, and you may experience longer stopping times and distances. Both of these issues have the potential to cause severe injury to drivers and passengers. Naturally, we want to help you avoid such situations. Contact our Cranberry Township, PA, and Meineke #1800 to schedule a professional inspection of your tires.
Signs Your Tires Need To Be Replaced
The great thing about tires is that they usually show clear signs when they need to be replaced or serviced. Damaged side walls may be cracked and broken if the tire is old or failing. Tread on the tire may also seem noticeably low, further indicating the need for a tire repair service. In severe cases, your tires may be so damaged, you can feel or see the belts, or insides, of the tire. Wear on one side, or not enough wear along both sides of your tire also indicates a problem. If any of these happen to your vehicle, immediately contact Meineke #1800 in Cranberry Township, PA to help you safely get back on the road.
Exceptional Service at Affordable Prices
At Meineke, we understand that you may be concerned about tire rotation or tire repair cost. If you are, we offer a variety of tire rotation coupons that can help you save on these services. Our professionals always provide quality service. If you believe that your tires are old or damaged, don't hesitate to contact one of our professionals at the Cranberry Township PA Meineke #1800 today.
Schedule Tires & Wheels service today