Tires & Wheels Services in Broken Arrow, OK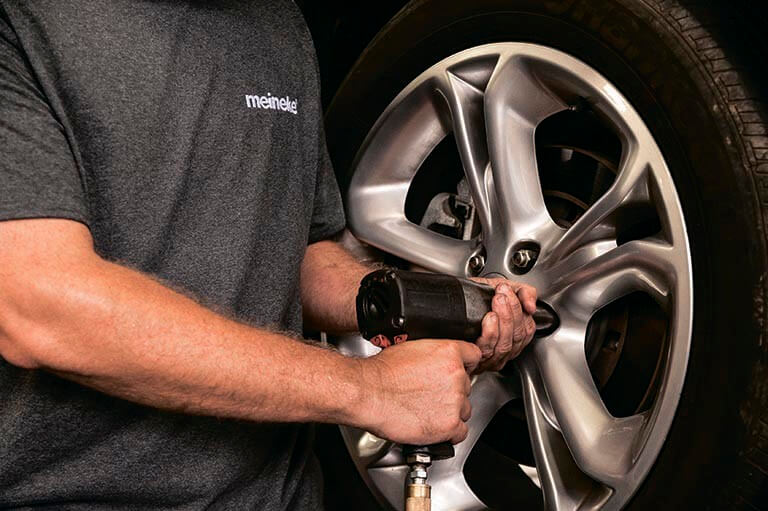 What Makes Up A Wheel?
A wheel is composed of the inner spokes, the rim that connects the spokes and the outside tire. Wheels are connected by an axle so they can work in pairs to allow your vehicle to move. The tread on the tires protects the inner portion of the rim and helps the wheel grip the road to increase safety and efficiency. Without wheels, your car would not be able to function. This is why keeping on top of tire rotation service and other maintenance is so important. To learn more about wheels and how they work, contact Meineke #2005 in Broken Arrow, OK.
The Importance of Functional Tires
Keeping your tires in optimal condition is important for a myriad of reasons. First of all, well-maintained tires handle better on slick and uneven surfaces. Their ability to handle these surfaces means that you and your passengers are less likely to be involved in a collision. Tires also have a significant impact on your suspension system, and if they are not rotated periodically, you may have difficulty steering your vehicle. Tires are frequently overlooked by drivers, but the better your tires perform, the better your entire vehicle will perform. Stop by our Broken Arrow, OK, Meineke #2005 store for a comprehensive inspection today.
Signs of Potential Issues
If you have older or damaged tires, you may be wondering about potential warning signs. Fortunately for drivers, many of these signs are easily observable to the naked eye. If you notice that your tires are punctured or cracked, it may be time to consider taking your vehicle to a tire change service provider. If your pressure sensor constantly gives low readings, even after you fill your tires with air or change them, your car may need to undergo tire pressure sensor replacement. Many of these issues are signs of severe damage, so call our Broken Arrow, OK, Meineke #2005 location if you notice any of them.
Consequences of Poor Maintenance
Neglecting to inspect or replace your tires can be dangerous in the long-run. If your tires are worn down, you may have difficulties handling your vehicle during adverse weather. Sleet, rain, and ice can easily send a vehicle with little tread spinning. During rainstorms, your vehicle will be more susceptible to hydroplaning, and you may experience longer stopping times and distances. Both of these issues have the potential to cause severe injury to drivers and passengers. Naturally, we want to help you avoid such situations. Contact our Broken Arrow, OK, and Meineke #2005 to schedule a professional inspection of your tires.
Signs Your Tires Need To Be Replaced
The great thing about tires is that they usually show clear signs when they need to be replaced or serviced. Damaged side walls may be cracked and broken if the tire is old or failing. Tread on the tire may also seem noticeably low, further indicating the need for a tire repair service. In severe cases, your tires may be so damaged, you can feel or see the belts, or insides, of the tire. Wear on one side, or not enough wear along both sides of your tire also indicates a problem. If any of these happen to your vehicle, immediately contact Meineke #2005 in Broken Arrow, OK to help you safely get back on the road.
Exceptional Service at Affordable Prices
At Meineke, we understand that you may be concerned about tire rotation or tire repair cost. If you are, we offer a variety of tire rotation coupons that can help you save on these services. Our professionals always provide quality service. If you believe that your tires are old or damaged, don't hesitate to contact one of our professionals at the Broken Arrow OK Meineke #2005 today.
Schedule Tires & Wheels service today