Tires & Wheels Services in Las Vegas, NV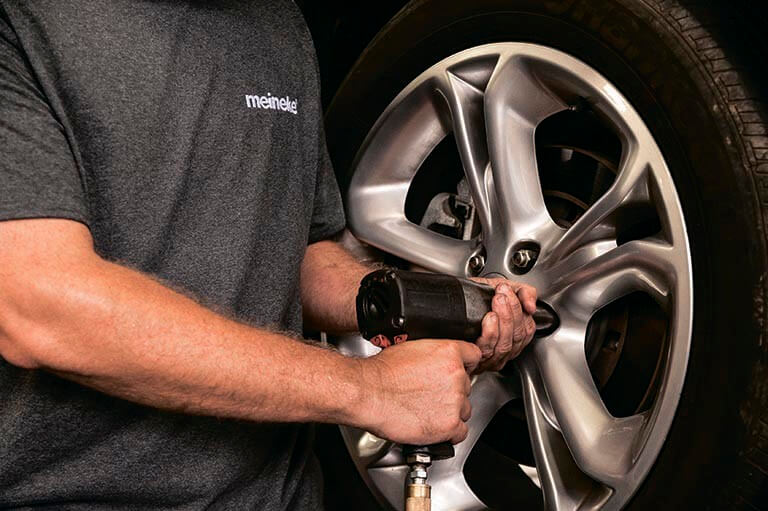 How Are Your Tires Made?
Have you ever taken a moment to think about how your vehicle's tires are made? Probably not, yet doing so may help you better understand what goes into our tire repair service. More than just a few inches of thick rubber, your tires are actually made from layer after layer of fabric cords called plies. These plies sit atop steel belts that help to reinforce both the sidewall and the treads, which is formed from several layers of synthetic rubber. Steel cable loops called beads give the tire the strength needed to stay seated on the rim. Once those components are placed together, they are run through a curing machine which cuts the tread pattern and bonds all the components together. To learn more about tires, including tire repair cost, visit Meineke #1603 in Las Vegas, NV today.
Why Is Maintaining Your Tires Important?
You know that you need your tires in good working order to drive your vehicle. So, perhaps a better question than why your tires are important is why you should maintain them before you're forced into frantically searching for "flat tire repair near me." The average car weighs over 4,000 pounds, which is a lot of weight sitting on your tires. Differences in inflation between tires causes your vehicle's weight to be distributed unevenly. Over time, that uneven weight distribution can lead to issues with your vehicle's balance, which then affects its safety and performance. Thus, following a routine rotation service is vital. You'll find such a service here at Meineke #1603 in Las Vegas, NV.
Signs Your Wheels Need Alignment
Wheels may need to be aligned after accidents or after too much wear and tear on a vehicle. Cars with tire alignment issues often show uneven tire wear. Drivers may also notice vibration through the steering wheel as wheels pull against one another instead of working in sync. If your car pulls to one side, it may indicate that your wheels need to be aligned. Bring your car or truck to Meineke #1603 in Las Vegas, NV, and we will gladly perform an alignment and tire rotation at the same time. Contact us for more information regarding tire rotation.
Why Proper Maintenance of Tires and Wheels Is Important
Tires are vital to the function and safety of your car or truck. The ridges and patterns that make up the tread of your tire are what help it grip the road and shed water to increase traction. When a tire's tread wears down, your vehicle no longer has the same traction and can become more unpredictable or more difficult to handle safely. Underinflated or overinflated tires often cause sidewall damage that can be dangerous, which can lead to sudden tire explosions on the road. Your tires should always be kept properly inflated. Learn about tire pressure sensor replacement when you stop by Meineke #1603 in Las Vegas, NV.
Signs Your Tires Need To Be Replaced
The great thing about tires is that they usually show clear signs when they need to be replaced or serviced. Damaged side walls may be cracked and broken if the tire is old or failing. Tread on the tire may also seem noticeably low, further indicating the need for a tire repair service. In severe cases, your tires may be so damaged, you can feel or see the belts, or insides, of the tire. Wear on one side, or not enough wear along both sides of your tire also indicates a problem. If any of these happen to your vehicle, immediately contact Meineke #1603 in Las Vegas, NV to help you safely get back on the road.
Where Can I Go for New Wheels and Tires?
If you are in need of new wheels or tires, searching for "flat tire repair near me," may not always give you the best results. At Meineke #1603 in Las Vegas, NV, we are always willing to go above and beyond to ensure that our customers receive the best service for the lowest prices. We often offer tire rotation coupons and other deals to keep tire replacement cost low. Save yourself time and money by bringing your car to Meineke #1603 the first time you are in need of repairs. Our professional technicians always take pride in their work, so you can be sure you are only getting the best possible service.
Schedule Tires & Wheels service today