Tires & Wheels Services in Henderson, NV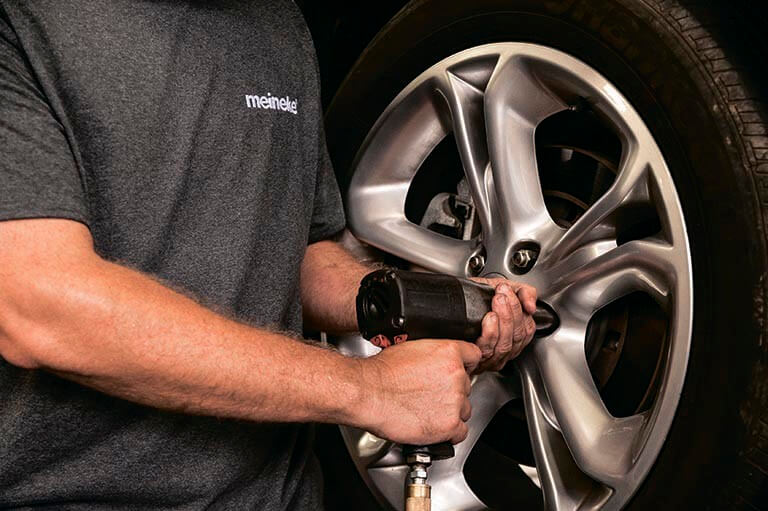 Is it Time to Repair or Replace Your Tires?
You may be asking yourself, 'Why do I need to have my tires serviced?' At Meineke, we have a simple answer to this question - because your tires are some of the most important parts of your vehicle. When you service and maintain your tires regularly, you will get the most out of your vehicle's suspension system, handling, and overall performance. If you can't remember the last time you had your tires replaced or inspected, visit your local store today in Henderson NV Meineke #4075 for a full tire-fledged tire inspection.
Why Your Tires Matter
Tires are one of the most essential parts of your vehicle. They act as the only point of contact between your vehicle and the roadway, so they are vital for proper safety. They can also significantly impact how well your vehicle performs. If you fail to take your vehicle in for a scheduled tire change service, you could be increasing the wear on your vehicle and lessening the lifetime of connected components. You may also be putting yourself, your vehicle's occupants and others on the roadway in danger. As tread wears down on a tire, it does not maintain as much traction, which could cause your car or truck to lose control on the road. Stop by Meineke #4075 in Henderson, NV to learn about a tire rotation service to prolong the life of your tires.
Signs Your Wheels Need Alignment
Wheels may need to be aligned after accidents or after too much wear and tear on a vehicle. Cars with tire alignment issues often show uneven tire wear. Drivers may also notice vibration through the steering wheel as wheels pull against one another instead of working in sync. If your car pulls to one side, it may indicate that your wheels need to be aligned. Bring your car or truck to Meineke #4075 in Henderson, NV, and we will gladly perform an alignment and tire rotation at the same time. Contact us for more information regarding tire rotation.
Why Proper Maintenance of Tires and Wheels Is Important
Tires are vital to the function and safety of your car or truck. The ridges and patterns that make up the tread of your tire are what help it grip the road and shed water to increase traction. When a tire's tread wears down, your vehicle no longer has the same traction and can become more unpredictable or more difficult to handle safely. Underinflated or overinflated tires often cause sidewall damage that can be dangerous, which can lead to sudden tire explosions on the road. Your tires should always be kept properly inflated. Learn about tire pressure sensor replacement when you stop by Meineke #4075 in Henderson, NV.
Signs Your Tires Need To Be Replaced
The great thing about tires is that they usually show clear signs when they need to be replaced or serviced. Damaged side walls may be cracked and broken if the tire is old or failing. Tread on the tire may also seem noticeably low, further indicating the need for a tire repair service. In severe cases, your tires may be so damaged, you can feel or see the belts, or insides, of the tire. Wear on one side, or not enough wear along both sides of your tire also indicates a problem. If any of these happen to your vehicle, immediately contact Meineke #4075 in Henderson, NV to help you safely get back on the road.
How Can You Save On Tire Repair and Replacement Costs?
If you're in need of new tires, you probably have concerns about the actual cost of tire replacement. While worn tires increase your risk of performance and stability issues on the road, that doesn't make affording new tires any easier. Fortunately, we at Meineke in Henderson, NV can. Once you have your new tires, be sure to make frequent visit to our Meineke #4075 web page. We frequently post repair and tire rotation coupons there. This is our way of rewarding the trust you place in us.
Schedule Tires & Wheels service today