Tires & Wheels Services in South Toms River, NJ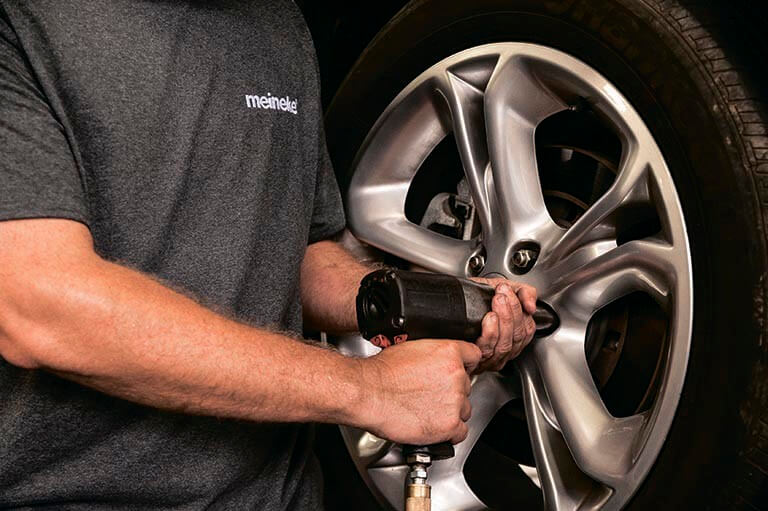 What Makes Up A Wheel?
A wheel is composed of the inner spokes, the rim that connects the spokes and the outside tire. Wheels are connected by an axle so they can work in pairs to allow your vehicle to move. The tread on the tires protects the inner portion of the rim and helps the wheel grip the road to increase safety and efficiency. Without wheels, your car would not be able to function. This is why keeping on top of tire rotation service and other maintenance is so important. To learn more about wheels and how they work, contact Meineke #214 in South Toms River, NJ.
The Importance of Functional Tires
Keeping your tires in optimal condition is important for a myriad of reasons. First of all, well-maintained tires handle better on slick and uneven surfaces. Their ability to handle these surfaces means that you and your passengers are less likely to be involved in a collision. Tires also have a significant impact on your suspension system, and if they are not rotated periodically, you may have difficulty steering your vehicle. Tires are frequently overlooked by drivers, but the better your tires perform, the better your entire vehicle will perform. Stop by our South Toms River, NJ, Meineke #214 store for a comprehensive inspection today.
How Often Should You Inspect Your Tires and Wheels?
Proper inspections of your tires should happen at least once a month. If you often drive in rough terrain or other dangerous conditions, you should inspect your tires and wheels twice a month or more. This is because tires can become worn down or damaged very easily in certain conditions. Sharp rocks or other debris can weaken tires and lead to premature blowouts and necessitate the need for a repair or replacement. Bring your vehicle to Meineke #214 in South Toms River, NJ for an inspection and tire repair cost estimate. This will help you avoid having to search for "flat tire repair near me."
Dangers of Putting off Wheel and Tire Repairs
Damaged tires and wheels are a potential hazard that can be completely avoided with proper maintenance. If you ignore tire pressure issues or put off your search for "tire repair near me," you are placing yourself, your vehicle's occupants and everyone you pass on the road in danger. Without properly maintained tires, your tires could explode while you are driving, causing you to lose control. Contact Meineke #214 in South Toms River, NJ for information on tire repair and tire pressure sensor replacement.
Do Your Tires Need to Be Replaced?
If the tire pressure sensor light illuminates on your vehicle's dashboard, should that be an automatic sign that your tires need to be replaced? Not necessarily. Depending upon the current condition of your tires, a simple repair may be all that needs to extend their life and save you money. How are you to know? Finding out for yourself literally only takes a penny. Insert a penny into the tread of your tires, with President Lincoln's head facing downward. If any part of his head is hidden by the tread, your tires can still be used. If the dashboard light continues to go off, you may want to consider a tire pressure sensor replacement. Any tire-related questions you may have can be answered by our friendly staff at Meineke #214 in South Toms River, NJ.
Unrivaled Prices and Service
Drivers can expect high-quality service from us, but we also understand that tire repair cost and tire replacement cost are important to consider as well. If you are experiencing issues with your steering and suspension, you may also be curious about our tire rotation cost. We realize that vehicle maintenance and repair can be expensive, which is why we strive to offer some of the most affordable prices in the industry to our customers. Your local store may also offer various coupons and discounts. Call our South Toms River, NJ, Meineke #214 store for additional information about our services.
Schedule Tires & Wheels service today