Tires & Wheels Services in Howell, NJ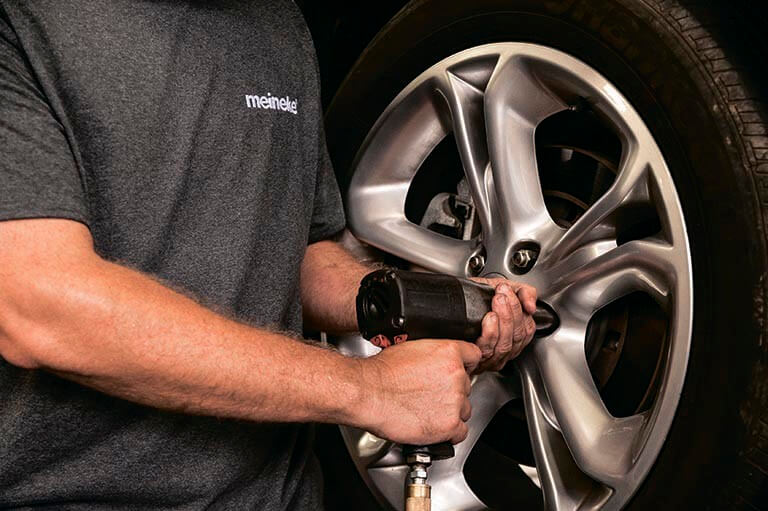 Keeping Your Tires in Optimal Condition
Have you been searching for a "flat tire repair near me"? If the answer is yes, you should consider contacting us for tire repair service and tire rotation service. Our certified technicians can inspect your car's tires thoroughly and quickly while helping you decide if you need any repairs or replacements. We understand that tire repair cost is always a factor to consider, which is why we strive to offer you a variety of discounts and tire rotation coupons. Speak to one of our professionals at our Howell, NJ, and Meineke #479 to learn more about our tire repair services.
Why Are Your Tires So Important?
The question of "why are tires so important?" typically comes up when the need for a tire repair shop arises. It is a question that deserves some thought. Nearly every aspect of your vehicle's performance, including braking, acceleration, steering, traction, and handling, are all largely dependent on tire performance. Issues with the tread, balance, or stability of your tires and wheels could affect your control of your vehicle in an emergency situation. Thus, if you suspect any problems, you should visit Meineke #479 in Howell, NJ for repair or tire change service right away.
Signs Your Wheels Need Alignment
Wheels may need to be aligned after accidents or after too much wear and tear on a vehicle. Cars with tire alignment issues often show uneven tire wear. Drivers may also notice vibration through the steering wheel as wheels pull against one another instead of working in sync. If your car pulls to one side, it may indicate that your wheels need to be aligned. Bring your car or truck to Meineke #479 in Howell, NJ, and we will gladly perform an alignment and tire rotation at the same time. Contact us for more information regarding tire rotation.
What Happens If You Avoid Repairing Your Tires?
Have you ever noticed how well your vehicle's different component systems work together? Unfortunately, they tend to deteriorate together, as well. You'd be amazed at how trying to avoid a simple tire repair cost can result in extensive damage to your vehicle. That's because unbalanced tires lead to increased wear on certain wheels as they try to support extra weight. Not only does this speed up their wear, but it also can affect your vehicle's suspension as it tries to compensate for this imbalance. Rather than allowing this to happen, research your "tire repair near me" options to find Meineke #479 in Howell, NJ.
How Do You know When to Get New Tires?
Your tires will typically give you plenty of notice that you should look into tire replacement or repair. Low tire tread is a serious problem that can only be solved through replacing the affected tire and its twin. Cracking, noticeable wear on only one side of the tire and vibration coming through the steering wheel are all indicators that you should have your tires inspected by a professional. If you do not replace your tires promptly, they could pop while you are driving. Taking your car to Meineke #479 in Howell, NJ for a full tire inspection and tire repair is the best option for safe driving.
Where Can You Save on Your Tire Services?
No one enjoys having to pay for auto repairs, but it can be easier to handle if you have the right provider. When it comes to the care of your tires, we at Meineke offer regular coupons to help you save on things such as a tire rotation cost. Simply check the Meineke #479 web page frequently to looks for saving such as tire rotation coupons and other specials. No matter what tire service you may need in Howell, NJ, we can help you save on it.
Schedule Tires & Wheels service today