Tires & Wheels Services in Louisville, KY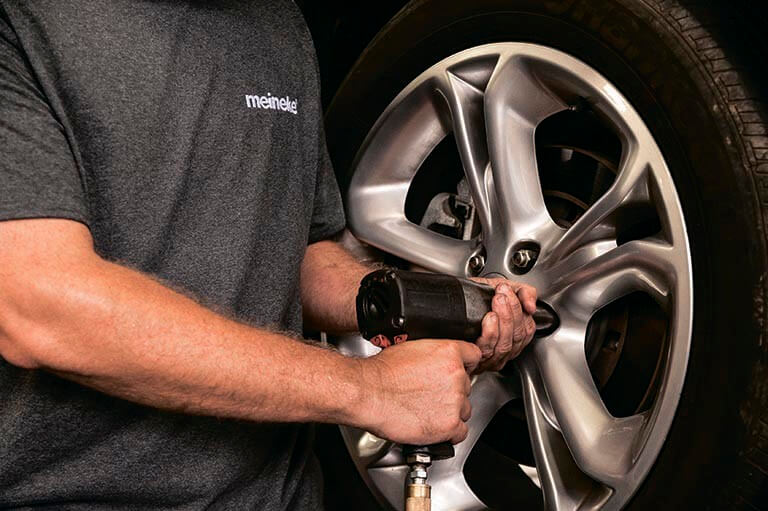 What Makes Up A Wheel?
A wheel is composed of the inner spokes, the rim that connects the spokes and the outside tire. Wheels are connected by an axle so they can work in pairs to allow your vehicle to move. The tread on the tires protects the inner portion of the rim and helps the wheel grip the road to increase safety and efficiency. Without wheels, your car would not be able to function. This is why keeping on top of tire rotation service and other maintenance is so important. To learn more about wheels and how they work, contact Meineke #1247 in Louisville, KY.
Why Your Tires Matter
Tires are one of the most essential parts of your vehicle. They act as the only point of contact between your vehicle and the roadway, so they are vital for proper safety. They can also significantly impact how well your vehicle performs. If you fail to take your vehicle in for a scheduled tire change service, you could be increasing the wear on your vehicle and lessening the lifetime of connected components. You may also be putting yourself, your vehicle's occupants and others on the roadway in danger. As tread wears down on a tire, it does not maintain as much traction, which could cause your car or truck to lose control on the road. Stop by Meineke #1247 in Louisville, KY to learn about a tire rotation service to prolong the life of your tires.
Signs Your Wheels Need Alignment
Wheels may need to be aligned after accidents or after too much wear and tear on a vehicle. Cars with tire alignment issues often show uneven tire wear. Drivers may also notice vibration through the steering wheel as wheels pull against one another instead of working in sync. If your car pulls to one side, it may indicate that your wheels need to be aligned. Bring your car or truck to Meineke #1247 in Louisville, KY, and we will gladly perform an alignment and tire rotation at the same time. Contact us for more information regarding tire rotation.
Dangers of Driving With Worn-Down Tires
Driving with worn-down or damaged tires can be hazardous to you and your passengers. When tires lose a significant amount of tread, they do not handle as well during certain weather conditions. Rain, sleet, and snow can easily pose a threat to drivers with poorly maintained tires. These drivers may experience longer stopping distances and times, and they will be at a higher risk of hydroplaning during rainstorms. Even minor "slicks" can be risky if they occur during heavy traffic. To get the best tire repair service, take your car to a Louisville KY Meineke #1247 professional for an inspection.
When to Replace or Inspect
More than likely, if your tires have not been replaced in over ten years, they will need to be replaced. If you have had your current set of tires for more than five years, professionals recommend having them inspected at least once a year just to be on the safe side. In general, how often you need to replace or inspect your tires will depend on your mileage, driving habits and the road conditions your most frequently encounter. If you constantly drive long distances at high speeds, please remember to schedule an inspection at your local store in Louisville KY Meineke #1247.
Where Can I Go for New Wheels and Tires?
If you are in need of new wheels or tires, searching for "flat tire repair near me," may not always give you the best results. At Meineke #1247 in Louisville, KY, we are always willing to go above and beyond to ensure that our customers receive the best service for the lowest prices. We often offer tire rotation coupons and other deals to keep tire replacement cost low. Save yourself time and money by bringing your car to Meineke #1247 the first time you are in need of repairs. Our professional technicians always take pride in their work, so you can be sure you are only getting the best possible service.
Schedule Tires & Wheels service today