Tires & Wheels Services in New Castle, DE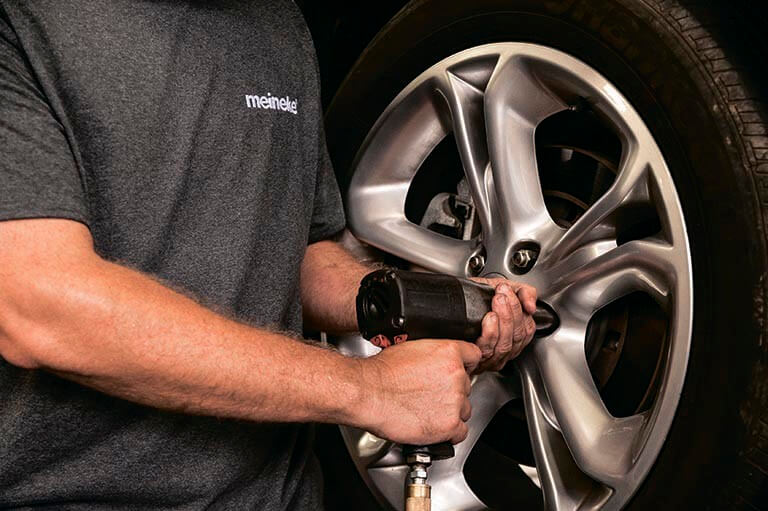 Keeping Your Tires in Optimal Condition
Have you been searching for a "flat tire repair near me"? If the answer is yes, you should consider contacting us for tire repair service and tire rotation service. Our certified technicians can inspect your car's tires thoroughly and quickly while helping you decide if you need any repairs or replacements. We understand that tire repair cost is always a factor to consider, which is why we strive to offer you a variety of discounts and tire rotation coupons. Speak to one of our professionals at our New Castle, DE, and Meineke #949 to learn more about our tire repair services.
Why Are Your Tires So Important?
The question of "why are tires so important?" typically comes up when the need for a tire repair shop arises. It is a question that deserves some thought. Nearly every aspect of your vehicle's performance, including braking, acceleration, steering, traction, and handling, are all largely dependent on tire performance. Issues with the tread, balance, or stability of your tires and wheels could affect your control of your vehicle in an emergency situation. Thus, if you suspect any problems, you should visit Meineke #949 in New Castle, DE for repair or tire change service right away.
What Are The Signs Telling You Tire Repair Is Needed?
Uneven tread heights and issues with vehicle stability at high speeds could each be a sign that you're in need of a tire repair or tire change service. However, these signs are often easy to miss. Fortunately, you vehicle will often tell you when its tires need some TLC through your in-dash tire pressure light. If and when it turns on, you should immediately stop and see which of your tires is over or underinflated. If the sensor continues to illuminate even after adding air to the tire, taking it into Meineke #949 in New Castle, DE may help you avoid a high tire replacement cost. Be sure to check and see if you also need a tire pressure sensor replacement while you're there.
Why Proper Maintenance of Tires and Wheels Is Important
Tires are vital to the function and safety of your car or truck. The ridges and patterns that make up the tread of your tire are what help it grip the road and shed water to increase traction. When a tire's tread wears down, your vehicle no longer has the same traction and can become more unpredictable or more difficult to handle safely. Underinflated or overinflated tires often cause sidewall damage that can be dangerous, which can lead to sudden tire explosions on the road. Your tires should always be kept properly inflated. Learn about tire pressure sensor replacement when you stop by Meineke #949 in New Castle, DE.
Signs Your Tires Need To Be Replaced
The great thing about tires is that they usually show clear signs when they need to be replaced or serviced. Damaged side walls may be cracked and broken if the tire is old or failing. Tread on the tire may also seem noticeably low, further indicating the need for a tire repair service. In severe cases, your tires may be so damaged, you can feel or see the belts, or insides, of the tire. Wear on one side, or not enough wear along both sides of your tire also indicates a problem. If any of these happen to your vehicle, immediately contact Meineke #949 in New Castle, DE to help you safely get back on the road.
Exceptional Service at Affordable Prices
At Meineke, we understand that you may be concerned about tire rotation or tire repair cost. If you are, we offer a variety of tire rotation coupons that can help you save on these services. Our professionals always provide quality service. If you believe that your tires are old or damaged, don't hesitate to contact one of our professionals at the New Castle DE Meineke #949 today.
Schedule Tires & Wheels service today