Auto Repair & Oil Changes in Tacoma, WA #2378
2701 Bridgeport Way W.
Tacoma, WA 98466
Mon-Fri:
7:30 am - 6:00 pm
Payment Accepted

Veteran Discounts

Senior Citizen Discounts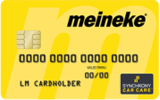 MEINEKE CREDIT CARD
Special financing with the Meineke Credit Card can help you get the repairs your vehicle needs now. Apply today!
Learn More

about financing
OFFERS AT THIS LOCATION
Coupons only valid if emailed or texted.
Tacoma CAR REPAIR SHOP SERVICES
ADDITIONAL TUNE UP SERVICES NEAR TACOMA
Minor Engine Repair
Engine Diagnostics
Steering & Suspension
Tests & Inspections

Smog Check
State Inspection
Ontario Safety Inspection
Emissions Testing
Batteries
CV Joints & Driveshafts
Driveline Service
Tune-ups
Vision, Safety & More
POSITIONS AT MEINEKE
BADGES & HONORS

ASE Certified

FLEET CERTIFIED