Tires & Wheels Services in Arlington, TX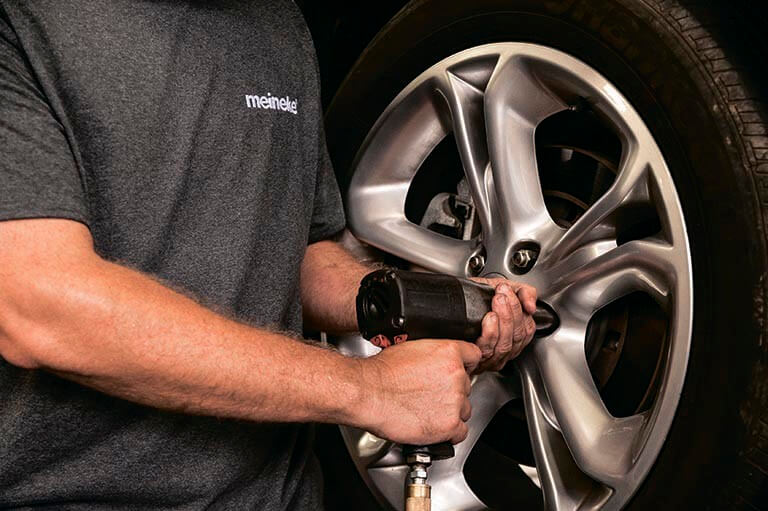 What Do Your Tires Do?
Your tires are an important component of your vehicle, making it vital that you have a tire repair service shop you can rely upon. But do you really understand what it is that your tires and wheels do? Yes, they serve as the point of contact between your vehicle and the road, but they are also what propels your vehicle down it. Your engine supplies the power, yet how much is needed depends upon the resistive force generated between your tire and the road surface as well as the weight of your vehicle. To drive, your engine must produce enough power to overcome this friction. That power is manifested in the rotational force of your wheels, which then uses the tires to apply it to the road surface. To learn more about how tires work, visit Meineke #2478 in Arlington, TX.
Why Are Your Tires So Important?
The question of "why are tires so important?" typically comes up when the need for a tire repair shop arises. It is a question that deserves some thought. Nearly every aspect of your vehicle's performance, including braking, acceleration, steering, traction, and handling, are all largely dependent on tire performance. Issues with the tread, balance, or stability of your tires and wheels could affect your control of your vehicle in an emergency situation. Thus, if you suspect any problems, you should visit Meineke #2478 in Arlington, TX for repair or tire change service right away.
Signs of Wear and Tear
"My tires seem a bit worn down, should I find a flat tire repair shop near me?" This is a frequently asked question, but there is no universal answer. However, there are easily observable signs that your tires may need to be replaced or repaired. For example, if your tire pressure reading is consistently low, even after replacement or inflation, you may want to consider tire pressure sensor replacement. Loss of tread, poor vehicle handling, and visible punctures are also common signs of wear and tear. Stop by Arlington TX Meineke #2478 to speak with a tire repair professional.
Consequences of Poor Maintenance
Neglecting to inspect or replace your tires can be dangerous in the long-run. If your tires are worn down, you may have difficulties handling your vehicle during adverse weather. Sleet, rain, and ice can easily send a vehicle with little tread spinning. During rainstorms, your vehicle will be more susceptible to hydroplaning, and you may experience longer stopping times and distances. Both of these issues have the potential to cause severe injury to drivers and passengers. Naturally, we want to help you avoid such situations. Contact our Arlington, TX, and Meineke #2478 to schedule a professional inspection of your tires.
Is it Time for New Tires?
Many of our customers ask themselves, "When should I visit a tire repair shop near me?" The answer depends on the age and current condition of your tires, your personal driving habits, and the condition of your local roadways. Individuals who drive on poorly paved and broken roadways will have to replace their tires earlier than most drivers. If you drive long distances at relatively high speeds, you may need to have your tires inspected once or twice yearly. If your tires are over ten-years-old, it is definitely time to consider a replacement. Get in touch with our Arlington, TX, Meineke #2478 store if you have specific questions.
Where Can You Save on Your Tire Services?
No one enjoys having to pay for auto repairs, but it can be easier to handle if you have the right provider. When it comes to the care of your tires, we at Meineke offer regular coupons to help you save on things such as a tire rotation cost. Simply check the Meineke #2478 web page frequently to looks for saving such as tire rotation coupons and other specials. No matter what tire service you may need in Arlington, TX, we can help you save on it.
Schedule Tires & Wheels service today