Brakes Services in Rapid City, SD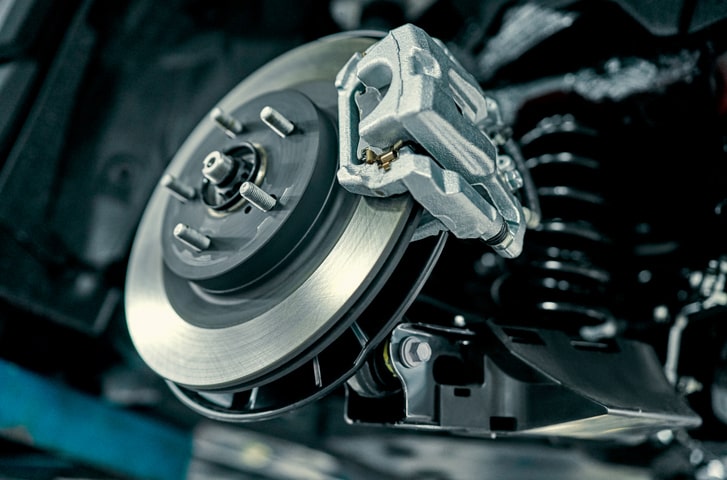 Understanding Your Anti-Lock Brakes
Your anti-lock brake system, or ABS, consists of a hydraulic control unit (HCU), an anti-lock brake control module and both front and rear anti-lock brake sensors. When you apply the brakes, you essentially force brake fluid from master cylinder outlet ports to HCU inlet ports. From the HCU, pressure is transmitted through four solenoid valves to each wheel and your vehicle comes to a stop. During an emergency stop, the ABS modulates brake pressure in order to prevent wheel lock-up. If you would like to learn more about ABS, we invite you to drop by Meineke #2352 in Rapid City, SD. Our friendly specialists know all about anti-lock brakes and how to care for them.
Why It Is Important to Keep Your ABS Working
Braking sharply is risky but at times necessary in order to avoid a road hazard. One of the major risks of braking is losing control of your car, which could lead to a major accident. The anti-lock system monitors rotational speed and performs a sophisticated algorithm of releasing and pumping the brakes that prevents wheels from locking up and lets the driver retain control. A malfunctioning ABS is particularly risky when driving on a slippery or icy surface, in bad weather or on loose material such as gravel. For best performance, be sure to get a regular ABS brake service check at Meineke #2352 in Rapid City, SD.
Signs Your ABS System Needs Service
Vehicles equipped with an ABS brake system generally have a dashboard light associated with the system. Some older vehicles may use the check engine light. However, your car will start to show physical signs during ABS brake failure. It may require more effort to press down on the brake pedal or the pedal may actually be unresponsive. If your ABS brakes need service, you will still have control and use of your regular braking system. This is not a reason to ignore ABS brake service. Bring your vehicle to the trusted technicians at Meineke #2352 in Rapid City, SD for repairs and maintenance.
How to Prevent ABS Failure
If your ABS fails, you can find yourself in a potentially very dangerous situation. Your anti lock system is what keeps your car from skidding or hydroplaning when you brake. For this reason, it is important to pay attention to signs that your brake system is impaired. One of the most common signs of an ABS problem is difficulty in applying the brake pedal, whether it offers more resistance or less than usual when you press it down. This type of problem is frequently related to brake fluid leakage or clogs and can arise whether you use silicone brake fluid or mineral brake fluid. If you notice a difference in brake pedal resistance, get your system checked at Meineke #2352 in Rapid City, SD.
When You Need a New ABS Brake System
Although some repairs to the ABS system can be costly, it's much safer to replace a faulty ABS module as soon as possible. When you hear random clicking noises or feel the brakes trying to pump themselves, you need to come to Meineke #2352 in Rapid City, SD for professional repairs. When you become accustomed to relying on your anti-lock brakes, you don't want to be caught without them, especially when the weather gets bad. Let Meineke help keep you safe on the road.
Save Money On Your ABS Upgrade
If you are thinking about replacing your anti lock system, a reputable service center can help you choose the best one for your car and help you ensure optimal function. Today's manufacturers are continually improving sensitivity and reaction time in order to improve safety. As part of your brake's mechanism, your ABS is affected by the type of brake fluid you use. High quality fluid is less prone to clogging your valves, so it is important to know where to buy brake fluid that is right for your system. Ask the professionals at Meineke #2352 in Rapid City, SD about replacing and maintaining your ABS, as well as brake fluid cost.
Schedule Brakes service today