Brakes Services in Spartanburg, SC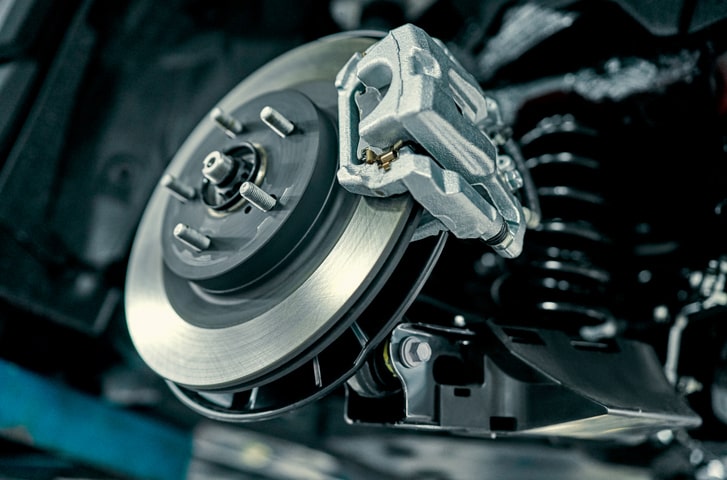 What Is an Anti Lock Braking System?
A car without anti lock brakes is vulnerable to uncontrolled skidding when braking, due to the risk of wheels locking up. The ABS system uses speed sensors to detect rapid decelerations, then controls the brakes through a series of valves positioned on the brake lines. The ABS uses a pump for restoring pressure to the brakes. The system is run by a control unit that processes the data from the sensors and controls the valves and the pump. Manufacturers continue to upgrade and improve anti-lock systems for faster reaction times and greater sensitivity. To find out details about your car's system, visit Meineke #2102 in Spartanburg, SC.
Why It Is Important to Keep Your ABS Working
Braking sharply is risky but at times necessary in order to avoid a road hazard. One of the major risks of braking is losing control of your car, which could lead to a major accident. The anti-lock system monitors rotational speed and performs a sophisticated algorithm of releasing and pumping the brakes that prevents wheels from locking up and lets the driver retain control. A malfunctioning ABS is particularly risky when driving on a slippery or icy surface, in bad weather or on loose material such as gravel. For best performance, be sure to get a regular ABS brake service check at Meineke #2102 in Spartanburg, SC.
Trouble Signs That Indicate Brake Inspection is Needed
As long as they appear to work as they should, you probably give little thought to the condition of your anti-lock brakes. However, you may begin to hear a screeching noise when you use your brakes or feel a vibration in the brake pedal. You may also find that when you apply the brakes, they seem less responsive than usual, or that your car seems to be pulling to one side or the other. These are all signs that it's time to let the specialists at Meineke #2102 in Spartanburg, SC, perform a thorough brake inspection.
Should You Ignore Your Anti-Lock Service Light?
It might seem strange that your regular brakes work properly even though the ABS brake light is on. This is no reason to ignore the light, because the anti-lock brakes prevent hydroplaning or skidding in adverse weather conditions. The ABS brakes give you more traction when you're on a slick surface. The new technology of braking gives you even more control over your car, even if you start to slide. Bring your vehicle to Meineke #2102 in Spartanburg, SC for ABS brake service to keep you and your passengers safe under any type of driving conditions.
How New ABS Brakes Keep You Safe
Maintaining your anti-lock brakes often prevents costlier repairs, but most car parts do need to be replaced at some point. When it's time to upgrade to newer parts, bring your vehicle to Meineke #2102 at Spartanburg, SC for service by professional technicians. Over time the technology for ABS brakes has changed, making them more efficient and giving you greater control over your vehicle in adverse driving conditions. We have all the information you need about your anti-lock brakes, service, repairs and brake fluid cost. Let our technicians help you stay safe on the road, no matter what Mother Nature sends.
Saving Money on Repairs
Although you can certainly learn how to recognize signs that your ABS brakes need repairs, any repairs should be provided by certified technicians who can ensure your brakes are in good operating condition. Before you come into our store, take a look at our coupons and pick up some savings. If you are ever in need of brake repairs, come to the professionals at Meineke #2102 in Spartanburg, SC. Keep your passengers safe in every type of driving condition by maintaining your brakes.
Schedule Brakes service today