Steering & Suspension Services in Fuquay Varina, NC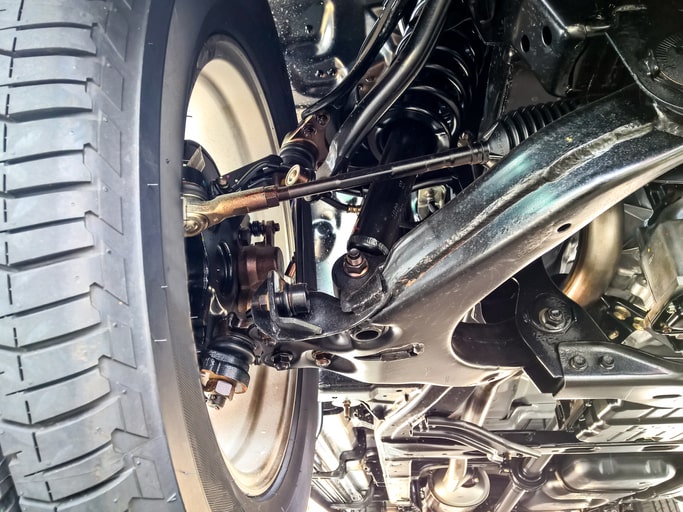 Understand Your Steering and Suspension Systems
Your vehicle's suspension and steering are actually parts of the chassis and are two very important systems for the stability and control of your car. The suspension system is in charge of supporting the weight of your car, helping maintain tire contact, and therefore absorbing or dampening the shock. Simultaneously, the steering system is the mechanism that allows you to direct and guide your vehicle. The suspension is comprised of three fundamental components: springs, dampers, and anti-sway bars which help absorb the motion of the wheels, control unwanted spring motion, and provide additional stability. It is therefore essential that your steering and suspension work properly and are carefully maintained so that you can have full control of your vehicle and also enjoy an "un-bumpy" ride.
Symptoms Of A Bad SAS System
Although in most cases mileage is a pretty good indicator of when to have your car checked, with regard to steering and suspension it is important to look for signs that indicate your SAS system is faltering. The sooner you get your vehicle inspected and fixed, the easier it will be. At Meineke #1830 in Fuquay Varina, NC, we conduct thorough assessments so be sure to bring your car in as soon as you experience issues such as noise coming from under your car (whether it's clunking, grinding, or rattling), excessive sway or lean when you're turning, or vibration in your steering wheel. Other symptoms may include uneven or premature tire wear or fluid leak from seals.
Steering And Suspension Repair Services
Because the steering and suspension systems are highly complex and made out of many parts, all of which could be either worn or damaged, it is highly important to have your vehicle inspected by expert mechanics and technicians. There are many reasons why your SAS system may be failing, so determining the root problem is the most important step in steering and suspension repair services. Our thorough evaluation includes the inspection of all suspension parts, shocks, struts and coils, as well as steering components, such as tie rods, lug nuts, and power steering pumps. We'll prepare a detailed findings report and a repair plan to highlight the issues that take priority, as some of the SAS problems can lead to dangerous driving conditions.
Benefits of Steering and Suspension Services
Sometimes, the issues you are experiencing with your SAS system may seem more of an inconvenience than a problem, but the truth is that these symptoms can quickly escalate and cause dangerous situations. Even if they don't, problems with steering and suspension can lead to other issues, which will end up costing you more when it's time to service your car. Therefore, there are many benefits of having your SAS serviced - one of the most important being better brake performance. A properly working steering and suspension also prevents uneven and premature tire wear and helps you better handle your vehicle which leads to a safer ride. Last but not least, a great suspension makes for a more comfortable ride, so you can enjoy driving again.
A Hassle Free Experience
Whether it's your steering and suspension that needs servicing or any other part of your vehicle, Meineke is here to get you back on the road and on with life as quickly and hassle-free as possible. We do things right the first time around, so you don't have to worry when it comes to your vehicle. Our expert technicians will conduct a thorough inspection and evaluation to make sure there's no hidden damage or cause of your car's symptoms. You'll get a detailed report and repair plan and we won't move forward until we have your approval. It's as seamless as it gets! Contact us today or schedule an appointment and we'll be happy to answer any questions you may have and discuss your car service options.
Schedule Steering & Suspension service today