Brakes Services in Fort Wayne, IN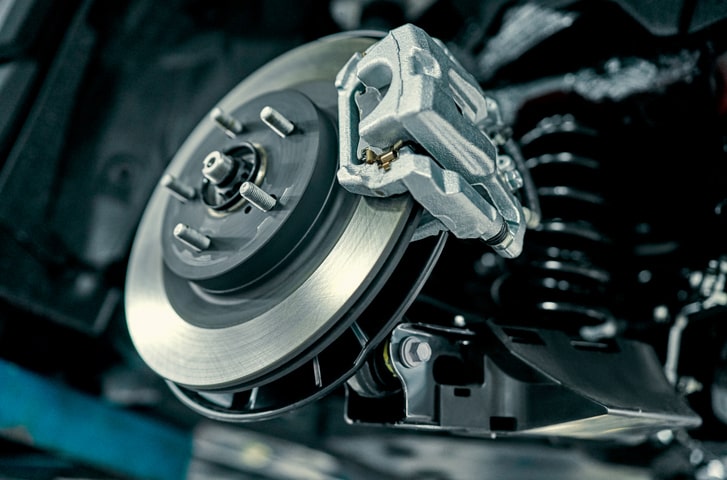 Understanding Your Anti-Lock Brakes
Your anti-lock brake system, or ABS, consists of a hydraulic control unit (HCU), an anti-lock brake control module and both front and rear anti-lock brake sensors. When you apply the brakes, you essentially force brake fluid from master cylinder outlet ports to HCU inlet ports. From the HCU, pressure is transmitted through four solenoid valves to each wheel and your vehicle comes to a stop. During an emergency stop, the ABS modulates brake pressure in order to prevent wheel lock-up. If you would like to learn more about ABS, we invite you to drop by Meineke #2150 in Fort Wayne, IN. Our friendly specialists know all about anti-lock brakes and how to care for them.
The Importance of Having Good Brakes
You never know when you're going to have to make a quick stop while driving your car. It is critical that you be able to trust your anti-lock brakes when faced with an emergency situation. If you have passengers in your vehicle, children especially, the need for safety is even greater. Regular inspections are the best way to make sure that your brakes are in peak condition. At Meineke #2150 in Fort Wayne, IN, we offer excellent ABS brake service, including timely and cost-effective inspections.
Trouble Signs That Indicate Brake Inspection is Needed
As long as they appear to work as they should, you probably give little thought to the condition of your anti-lock brakes. However, you may begin to hear a screeching noise when you use your brakes or feel a vibration in the brake pedal. You may also find that when you apply the brakes, they seem less responsive than usual, or that your car seems to be pulling to one side or the other. These are all signs that it's time to let the specialists at Meineke #2150 in Fort Wayne, IN, perform a thorough brake inspection.
How to Prevent ABS Failure
If your ABS fails, you can find yourself in a potentially very dangerous situation. Your anti lock system is what keeps your car from skidding or hydroplaning when you brake. For this reason, it is important to pay attention to signs that your brake system is impaired. One of the most common signs of an ABS problem is difficulty in applying the brake pedal, whether it offers more resistance or less than usual when you press it down. This type of problem is frequently related to brake fluid leakage or clogs and can arise whether you use silicone brake fluid or mineral brake fluid. If you notice a difference in brake pedal resistance, get your system checked at Meineke #2150 in Fort Wayne, IN.
Signs You Need to Replace Your Brakes
While some types of brake problems can be fixed by replacing the brake fluid, others need a more fundamental system overhaul. The top sign that a replacement is needed is noticeable loss of function in your breaks. If you are pressing your pedal and encountering no resistance, this could be a sign of systematic failure. If your ABS system is kicking in during normal driving, it may need to be replaced. Get a better idea of replacement brake and ABS system cost by speaking with representatives at Meineke #2150 in Fort Wayne, IN.
Saving Money on Repairs
Although you can certainly learn how to recognize signs that your ABS brakes need repairs, any repairs should be provided by certified technicians who can ensure your brakes are in good operating condition. Before you come into our store, take a look at our coupons and pick up some savings. If you are ever in need of brake repairs, come to the professionals at Meineke #2150 in Fort Wayne, IN. Keep your passengers safe in every type of driving condition by maintaining your brakes.
Schedule Brakes service today