Brakes Services in Schaumburg, IL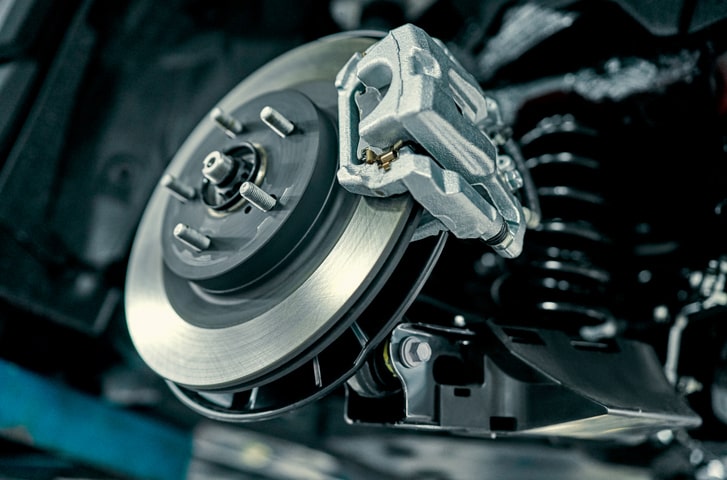 How Your Brakes Work
You have no doubt been in a situation where you've had to slam on your brakes, thankful that they work so well. Applying your vehicle's brakes is an example of stopping kinetic energy, which is present when your car is moving. Most automobiles today have anti-lock brakes. The ABS, or anti-lock braking system, is a four-wheel system that modulates braking pressure automatically during a quick stop. When the brakes are engaged, fluid is forced through a set of valves from a master cylinder, causing pressure that is transmitted to the hydraulic control units at each wheel. You can learn more about ABS from the pros at Meineke #265 in Schaumburg, IL.
Why It Is Important to Maintain Your Brakes
Brakes are the most important safety feature on your car. While people sometimes procrastinate on repairs, a problem with your brakes means that you should stop driving your car and get it checked right away. A crucial part of keeping your brakes in good working order is using the right brake fluid and replacing it on time. There are several types of fluid, including silicone brake fluid and mineral brake fluid. Failing to replace brake fluid on time can cause it to absorb a high percentage of water and compromise your brakes' function. To get an estimate of brake fluid cost for your car, speak with technicians at Meineke #265 in Schaumburg, IL.
Signs Your ABS System Needs Service
Vehicles equipped with an ABS brake system generally have a dashboard light associated with the system. Some older vehicles may use the check engine light. However, your car will start to show physical signs during ABS brake failure. It may require more effort to press down on the brake pedal or the pedal may actually be unresponsive. If your ABS brakes need service, you will still have control and use of your regular braking system. This is not a reason to ignore ABS brake service. Bring your vehicle to the trusted technicians at Meineke #265 in Schaumburg, IL for repairs and maintenance.
How to Prevent ABS Failure
If your ABS fails, you can find yourself in a potentially very dangerous situation. Your anti lock system is what keeps your car from skidding or hydroplaning when you brake. For this reason, it is important to pay attention to signs that your brake system is impaired. One of the most common signs of an ABS problem is difficulty in applying the brake pedal, whether it offers more resistance or less than usual when you press it down. This type of problem is frequently related to brake fluid leakage or clogs and can arise whether you use silicone brake fluid or mineral brake fluid. If you notice a difference in brake pedal resistance, get your system checked at Meineke #265 in Schaumburg, IL.
How New ABS Brakes Keep You Safe
Maintaining your anti-lock brakes often prevents costlier repairs, but most car parts do need to be replaced at some point. When it's time to upgrade to newer parts, bring your vehicle to Meineke #265 at Schaumburg, IL for service by professional technicians. Over time the technology for ABS brakes has changed, making them more efficient and giving you greater control over your vehicle in adverse driving conditions. We have all the information you need about your anti-lock brakes, service, repairs and brake fluid cost. Let our technicians help you stay safe on the road, no matter what Mother Nature sends. Where can you get it / save money
Schedule Brakes service today