Brakes Services in Romeoville, IL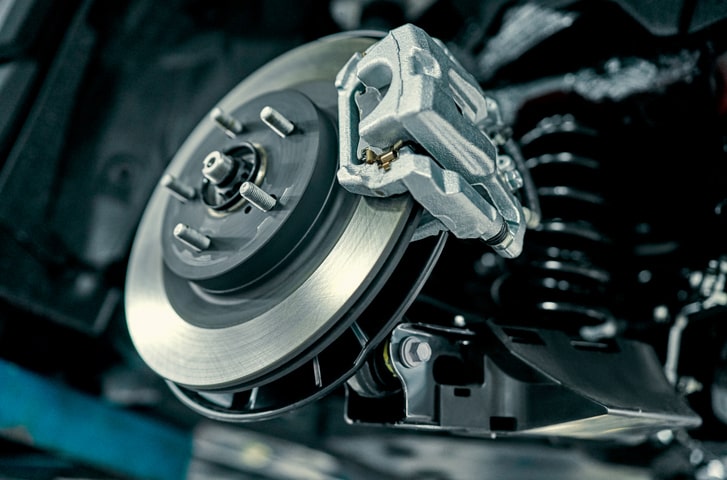 How Your Brakes Work
You have no doubt been in a situation where you've had to slam on your brakes, thankful that they work so well. Applying your vehicle's brakes is an example of stopping kinetic energy, which is present when your car is moving. Most automobiles today have anti-lock brakes. The ABS, or anti-lock braking system, is a four-wheel system that modulates braking pressure automatically during a quick stop. When the brakes are engaged, fluid is forced through a set of valves from a master cylinder, causing pressure that is transmitted to the hydraulic control units at each wheel. You can learn more about ABS from the pros at Meineke #2052 in Romeoville, IL. Why it's important / Benefits
When Should You Schedule a Brake System Inspection
Some people think that the funny little sound their brakes are beginning to make can be eliminated with a simple fix. They begin looking around, wondering where to buy brake fluid and spend some time considering options, such as silicone brake fluid versus mineral brake fluid as well as overall brake fluid cost. Meanwhile, the funny sound turns into an annoying screech and the smart driver will realize it's time to take the car to Meineke #2052 in Romeoville, IL, for an inspection. Why it needs to be repaired
How New ABS Brakes Keep You Safe
Maintaining your anti-lock brakes often prevents costlier repairs, but most car parts do need to be replaced at some point. When it's time to upgrade to newer parts, bring your vehicle to Meineke #2052 at Romeoville, IL for service by professional technicians. Over time the technology for ABS brakes has changed, making them more efficient and giving you greater control over your vehicle in adverse driving conditions. We have all the information you need about your anti-lock brakes, service, repairs and brake fluid cost. Let our technicians help you stay safe on the road, no matter what Mother Nature sends.
Cost-Effective Brake Service
Scheduling an inspection for your anti-lock brakes at regular intervals is the best way to keep repair costs from mounting. Remember that service may be as simple as adding brake fluid, a component that costs just a few dollars. Silicon brake fluid and mineral brake fluid are widely available, and they may be among the products used by Meineke #2052 in Romeoville, IL, when you come in for ABS brake service. The specialists here can diagnose any brake problems you might be having and resolve the issues promptly in order to save you greater expense down the road.
Schedule Brakes service today