Brakes Services in Edwardsville, IL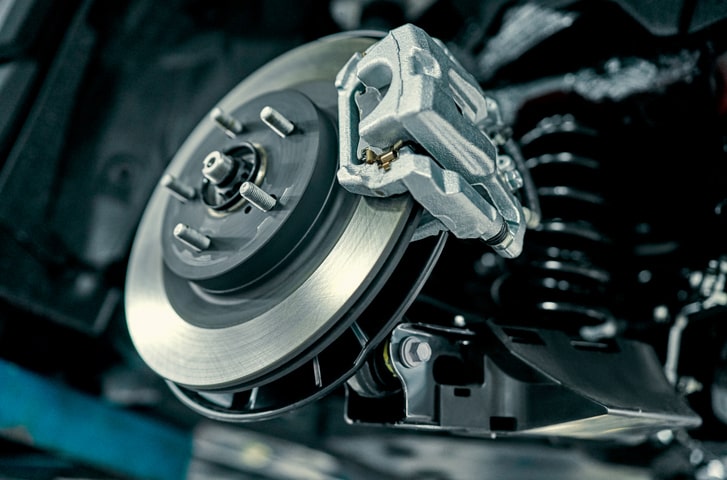 What Is an Anti Lock Braking System?
A car without anti lock brakes is vulnerable to uncontrolled skidding when braking, due to the risk of wheels locking up. The ABS system uses speed sensors to detect rapid decelerations, then controls the brakes through a series of valves positioned on the brake lines. The ABS uses a pump for restoring pressure to the brakes. The system is run by a control unit that processes the data from the sensors and controls the valves and the pump. Manufacturers continue to upgrade and improve anti-lock systems for faster reaction times and greater sensitivity. To find out details about your car's system, visit Meineke #2643 in Edwardsville, IL.
Why It Is Important to Maintain Your Brakes
Brakes are the most important safety feature on your car. While people sometimes procrastinate on repairs, a problem with your brakes means that you should stop driving your car and get it checked right away. A crucial part of keeping your brakes in good working order is using the right brake fluid and replacing it on time. There are several types of fluid, including silicone brake fluid and mineral brake fluid. Failing to replace brake fluid on time can cause it to absorb a high percentage of water and compromise your brakes' function. To get an estimate of brake fluid cost for your car, speak with technicians at Meineke #2643 in Edwardsville, IL.
When Is It Time to Check My ABS?
Your ABS is a crucial safety feature. Fortunately, there are several warning signs that will allow you to get it repaired before it fails. Many cars today have an ABS warning light. If yours comes on, take your car to a mechanic and have it checked right away. Other red flags for impaired anti lock function include brakes locking up at odd times, brake pedals that do not respond to pressure and a greater amount of pressure being needed to brake. If you notice any of these, it is time for an immediate check-up. Stop at Meineke #2643 in Edwardsville, IL to learn about ABS system cost for repair or replacement.
Should You Ignore Your Anti-Lock Service Light?
It might seem strange that your regular brakes work properly even though the ABS brake light is on. This is no reason to ignore the light, because the anti-lock brakes prevent hydroplaning or skidding in adverse weather conditions. The ABS brakes give you more traction when you're on a slick surface. The new technology of braking gives you even more control over your car, even if you start to slide. Bring your vehicle to Meineke #2643 in Edwardsville, IL for ABS brake service to keep you and your passengers safe under any type of driving conditions.
When You Need a New ABS Brake System
Although some repairs to the ABS system can be costly, it's much safer to replace a faulty ABS module as soon as possible. When you hear random clicking noises or feel the brakes trying to pump themselves, you need to come to Meineke #2643 in Edwardsville, IL for professional repairs. When you become accustomed to relying on your anti-lock brakes, you don't want to be caught without them, especially when the weather gets bad. Let Meineke help keep you safe on the road.
Where to Get Your Brakes Replaced
Keeping your brake system in good order and replacing it as necessary is one of the most important car safety precautions you can take. For this reason, it is essential to have an experienced car professional to rely on. From knowing where to buy brake fluid that is right for your system to resources for ABS brake service, your service center helps you to keep your brakes in top condition. Visit in Edwardsville, to learn more about brake replacement and maintenance.
Schedule Brakes service today